Rank
Site
In
Out

1

Top Ringhomepages



40
40

This topsite is for ring homepages only. Which means you must manage a ring at one of the ring systems on the web, such as webringo or webring just to name a few

2

Webrings I Am Ringmaster For



21
32

Site gives a subject list of all the webrings I am Ringmaster for. Take a look at the list, and if you see a ring you are interested in, join today!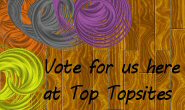 Last Update: September 27, 2020 12:27 pm
Next Update: September 27, 2020 12:57 pm
Next Reset: never
Sites: 2

Powered By GoTop100.com